We're Aaron & Jillian Osteen, husband and wife wedding photographers, avid travelers and owners of Aaron and Jillian Photography in Charleston, South Carolina!  We specialize in romantic and candid engagement sessions, elegant bridal sessions and classic & chic plantation style weddings in and outside of Charleston, SC!  If you're planning your wedding outside of Charleston, no worries!  About 20% of the weddings we photograph are either out of state, or out of the country, so like we said, we LOVE to travel for engagements & weddings and our passports are always ready for another stamp!
… and Merry Christmas, by the way, from our little family to yours!!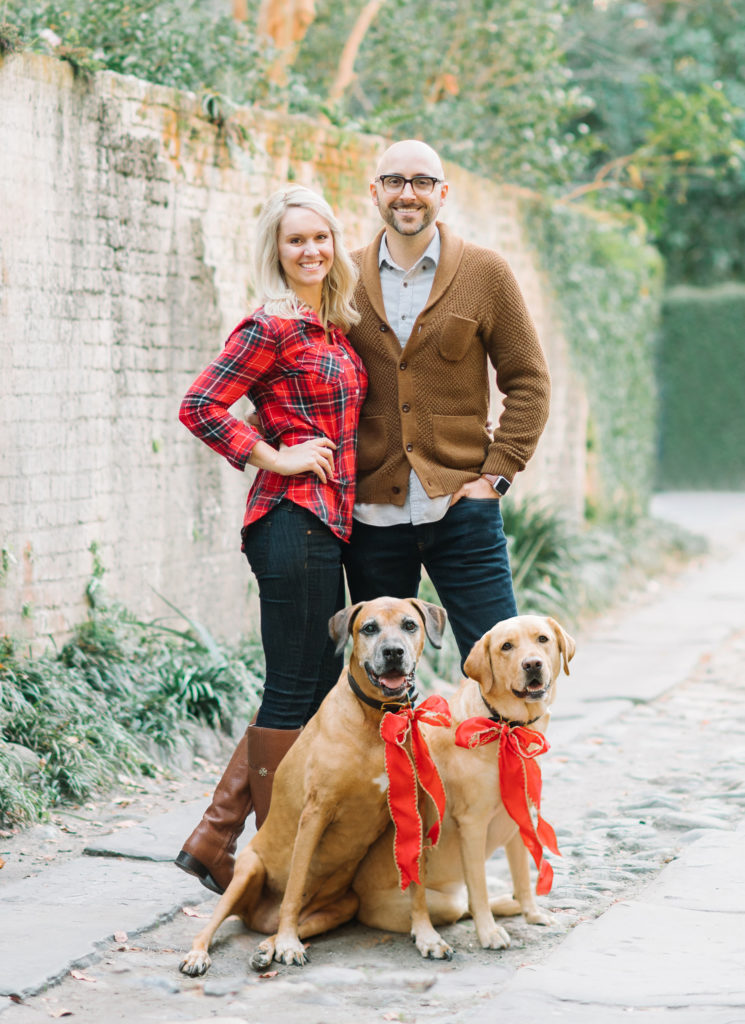 How we met is quite the story!  Jillian was born and raised in Orange County, California, and Aaron is an Asheville, North Carolina native, but we met while teaching English in South Korea back in 2009!   Yep, we met in Asia!  Awesome, right?!   Both of us left our hometowns in the U.S., ON THE SAME DAY, to move across the globe to teach, photograph, and travel the world!  Did the stars not perfectly align for us, or what?!  So, the story goes like this: The schools where we were both teaching happened to be in the same area of Busan, South Korea, the city where we lived.  Jillian's school was in a poor area of town and couldn't afford to hire cafeteria workers, so Aaron's school cooked all of the traditional Korean cafeteria food for Jillian's school.  We would comment on each others' Facebook pages about how crazy the octopus soup or blood sausage was that was served for lunch that day. Those silly Facebook messages quickly turned into a close friendship and a plethora of photo outings around the city, later evolving into an adventurous dating relationship!   Our fairy tale relationship continued when Aaron proposed at sunset, in the ocean, 3 years later, on a teeny tiny island in the Philippines!   We planned our entire wedding from across the globe and said our vows on July 28th, 2012, in the backyard of Aaron's aunt and uncle's amazing historic home in North Carolina!
We lived in Asia for 4 years, drove around on a cute lil' vespa-style scooter, traveled to 13 different countries in 4 years, ate some of the strangest foods out there, lived in a 300-square-foot studio apartment together above a Korean BBQ restaurant and a karaoke bar, taught over 6,000 English classes combined, took thousands of photos, honeymooned in Austria and Germany, flew on over 50 airplanes together, drove across the entire United States while living out of our 4runner for 3 months (BEST ROAD TRIP EVER by the way!), and have done it all while being each others' best friends and biggest fans!  We spent our first 4 summer months as "Charlestonians" living 3 blocks from the beach on Folly Island… and in April of 2015, we purchased our very first home together, a charming 1930's craftsman home (#HomeOnHickory) in one of our favorite neighborhoods near downtown Charleston and spent the next 3 years, renovating it from top to bottom!! … all alongside our sweet 14 year old Rhodesian Ridgeback/Boxer mix, "Cash", and our sweet-as-can-be 4 year old yellow Labrador, "Boone"!
We are truly blessed and can't wait to hear your love story!

.