What better way to introduce Summer & John than to take their own words right from their mouths!  John describes Summer as being "Amazing!  That's why I took her off the market. Her positive outlook on life is contagious and something I can't help but admire. Anyone that knows her, knows that she has an unwavering loyality to her family and friends and there isn't anyone else I'd want on my team, and in my corner, than her."  Swoon!!! … and Summer describes John as "One of the most driven people I know. He's always the life of the party and constantly cracking jokes. I seriously think he could be a stand up comedian- just ask him about his thoughts on Disney World. One of my favorite things about John is how much he loves his family and how involved he is with them!  He's generous and kind and treats me like a princess and he's more than I could have ever dreamed for. I'm honestly the luckiest girl in the world!" … and now it's our turn to describe this lively couple in our own words – WE LOVE BOTH OF THEM for so many reasons!  Let's start with the fact that they're affectionate, brilliant (Summer's in Law School and John is like a human encyclopedia!), friendly, generous, inspiring, enthusiastic, lovable, strong, talented, sentimental, sassy, playful and just plain wonderful!  Seeing them come together to create the power couple they are was pretty amazing and what a fun group of friends to stand by their side and cheer them on throughout the day!!!  Summer & John, y'all are seriously B.L.E.S.S.E.D!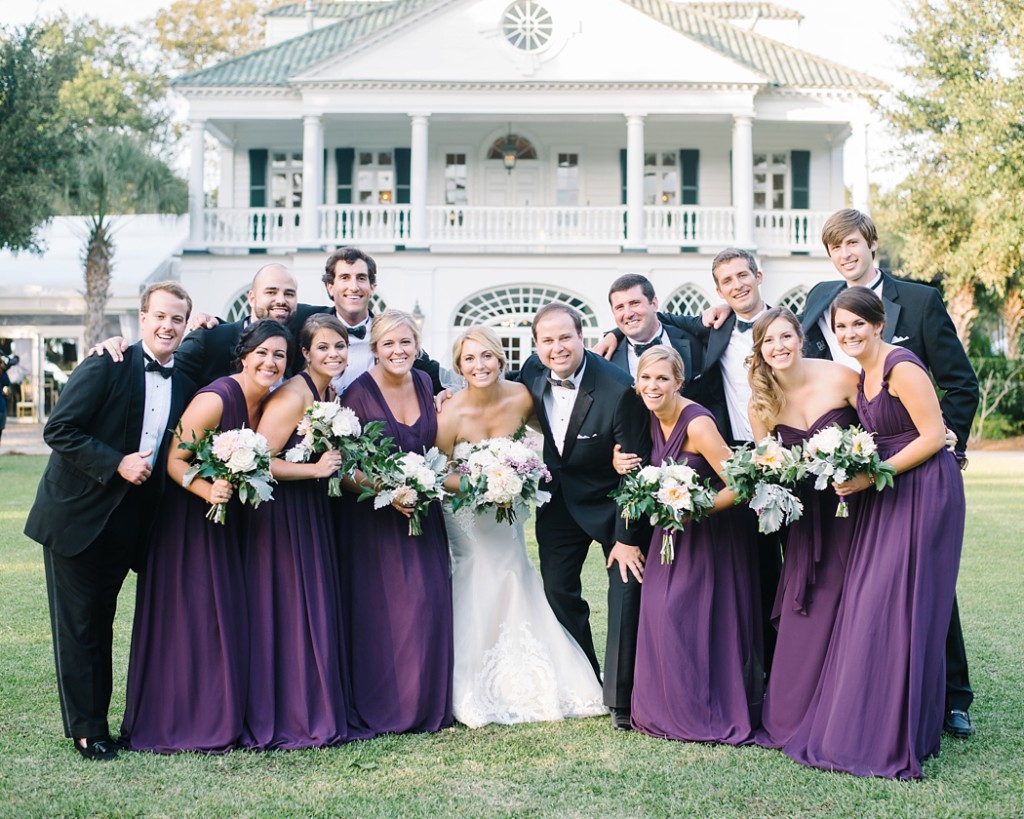 … And a big ol' round of applause goes to the ever so talented Lindsey Shanks of A Charleston Bride, who came up with an incredible design to set the tone for Summer's dream of an opulent, elegant, classic, cocktail inspired Black Tie Lowndes Grove Plantation wedding!  From the custom linens, lush florals, one of a kind champagne wall built just for the occasion, ceremony Chuppah – draped in florals and white linens, gold painted pears and hand written place cards at each guest's table setting, to the creative cocktails covered in bacon (Yes, bacon!  Their wedding hashtag was #Cocktaillls4ever for Heaven's sake, so naturally, they were destined to have some pretty incredible cocktails on hand!), there wasn't a detail unthought of for this special soiree!!  I'm telling you, it was PERFECTION from beginning to end!  So, without further adieu… Enjoy some of our favorite shots from their Charleston wedding and try to bring that jaw back up off the floor!  We know it'll be hard because it was pretty amazing!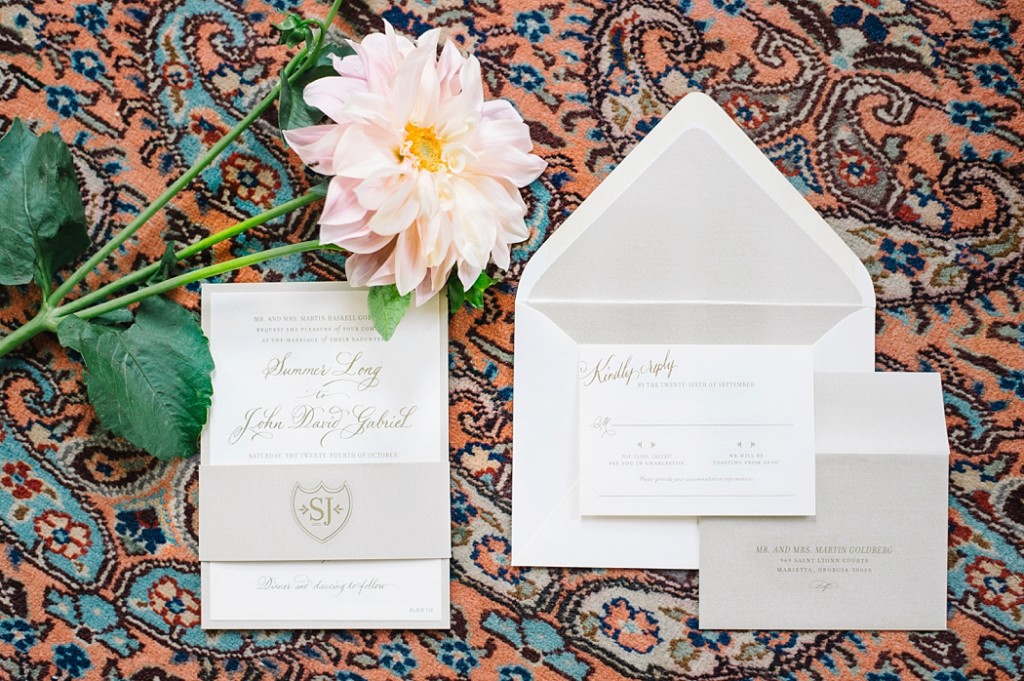 Summer & John | Lowndes Grove Plantation, Charleston SC from Citrus Ceremonies on Vimeo.

Wedding Planning & Coordinating // Lindsey Shanks of A Charleston Bride
Wedding Floral & Design //A Charleston Bride
Wedding Dress // Ines Di Santo
Wedding Florist //A Charleston Bride
Wedding Cake //Patrick Properties Pastry Chef Jessica Grossman
Bridal Hair & Makeup Artist //Paper Dolls
Wedding Videographer // Citrus Ceremonies
Wedding Caterer // Patrick Properties Culinary Team
Bar Service //Patrick Properties Team
Wedding Band // Atlanta Groove Factory
Bridesmaid's Dresses // Jenny Yoo
Groom's Suit // Hugo Boss
Specialty Bowties // Brackish Bowties
Wedding Invitations // Studio R
Wedding Rentals // Snyder and Ooh! Events
Specialty Linens // BBJ
Table Place Settings // Polished Tabletop 
Cocktails Signs // 428 main
Ceremony Musicians // Seth G 
Bride's Earrings // Bella Bianca Bridal Couture in Chicago
Bride's Getaway Dress // Vie La V – via Rent The Runway
Bride's Engagement Ring // Colucci's in Charleston – Center stone is from groom's grandmother!
Bride's Wedding Band // Rogers and Hollands
Groom's Ring // Family heirloom passed down from grandfather to father to groom
Dinner Menus // Studio R
Wedding Photographer // Aaron and Jillian Photography
Calligraphy for Ceremony Mirror // Elizabeth Porcher Jones
Lighting Design // TEC
Getaway Car // Low Country Valet
Hair & Makeup // Paper Dolls

_____________________________________________________________
To see more of our beautiful weddings, follow us on Facebook at: www.Facebook.com/AaronandJillianPhotography and if you would like for Aaron & Jillian Photography to be your Charleston engagement or Charleston wedding photographer, click the "contact" tab above!