Get ready for a stunner, Blog World, because this wedding is pretty awesome!!  Introducing Brooke & Steve, the sweetest darn college sweethearts you've ever met!  These two have been living in VA ever since graduating from college and are in the process of building an INCREDIBLE new home to raise their fur-baby, Josie, and all the beautiful babies to come!!  I think we've spent more time with Brooke and Steve than any of our other A&J couples, so they have a SERIOUSLY soft spot in our hearts!  We spent an hour or so over Skype a long time ago, then shot a mini engagement session for them in the rain with Josie, then had them over to hang out before their SUNNY engagement session a couple months later and then spent 2 hours with Brooke for her bridal session!  So by the time the wedding rolled around, they felt like some of our best friends and the 10 hours we spent with them on the wedding day was over in a flash of a moment and we were already missing them the second they drove away!  … and I'm pretty sure if they lived in SC we would call them every day to hang out!  Hope that's not overkill!  We just LOVE them!
Brooke and Steve's genuineness, laughter and positive energy are all so incredibly contagious!  They're just some of the best people on the planet and the fact that they chose us to photograph their wedding made us some of the luckiest people on the planet, considering we get to spend more time with the bride and groom than anyone else on their wedding day! … and I can tell you that their wedding day was PERFECT, from beginning to end!  The gals at Ash & Co worked their magic and created some of the most romantic hair and makeup for Brooke and her bridesmaids and can we talk about the bridal suite at The French huguenot for a second!  SWOON!!  We were also blown away by all of the personal details that Brooke made and ordered for the wedding and the way she and Chelyse from Intrigue Design & Events transformed The Mills House downtown into a space that any bride would die over!  … and can we take a moment to just stare at these flowers!  Tiger Lily Florist, you are AMAZING and you completely outdid yourself for Brooke + Steve's wedding!  WOWZERS!
So, without further adieu…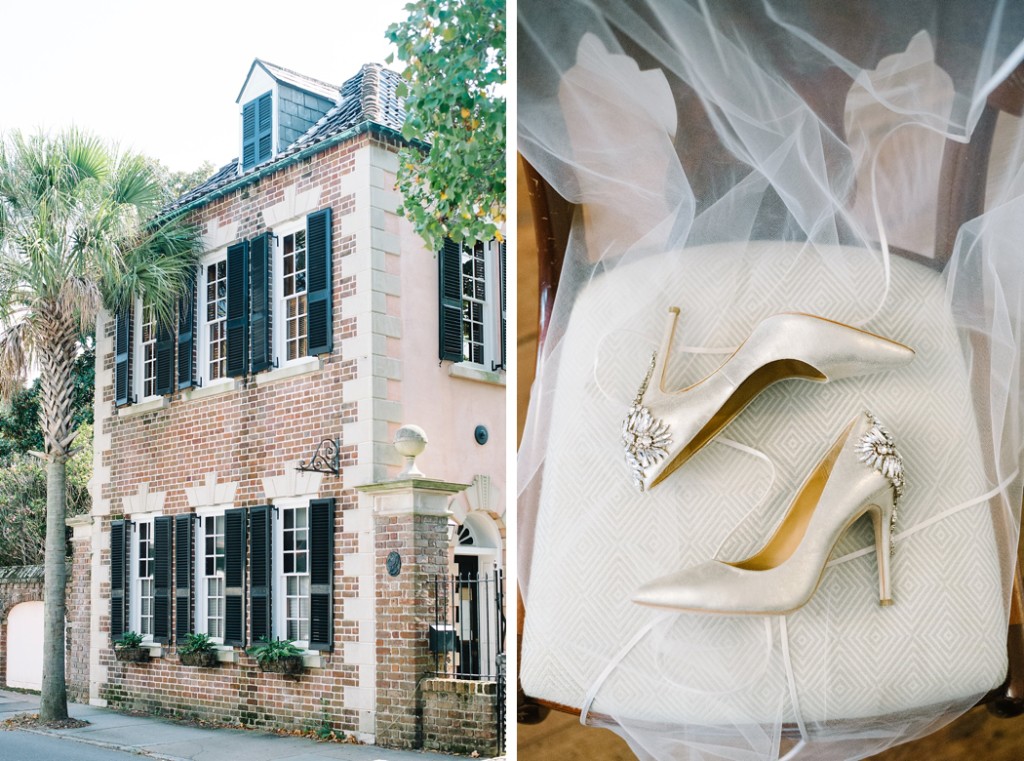 Did I not tell you this wedding was AWESOME?!!  Congratulations Brooke & Steve!  We couldn't think of anyone more deserving of such a perfect day!!


Wedding Coordinator & Designer // Intrigue Design & Events
Wedding Dress // Elegance by Roya Bridal Boutique (Alexandria, VA)
Wedding Dress Designer // Martina Liana (Australia)
Bridesmaid's Dresses // Bella Bridesmaid
Groom & Groomsmen's Suits & pocket Squares // The Black Tux and Knotty Tie Company
Wedding Invitations + Stationary // Mia Maria Design
Wedding Rentals // Ooh! Events
Wedding Photography // Aaron & Jillian Photography
Table Settings // Polished Tabletop
Wedding Caterer // The Mills House
Bar Service // The Mills House
Ceremony Musicians // The French Huguenot Church
Wedding Rings // May Jewelers
Lighting Design // EPIC / Ooh! Events
Wedding Videographer // Anchor Films
Wedding Florist // Tiger Lily Florist
Wedding Cake // Ashley Bakery
Wedding DJ // Lucas Wade
Bridal Makeup Artist // Ash & Co
Bridal Hair Stylist // Ash & Co
Horse Drawn Carriages // Palmetto Carriage
Getaway Car // Tri County Transport

_____________________________________________________________
If you would like for Aaron & Jillian Photography to be your Charleston engagement or Charleston wedding photographer, click the "contact" tab above!