Have you ever wondered what it would be like to attend a beautiful quintessential Southern wedding?!  Well, pull up your chairs, because you're about to get a sneak peak into one of our favorites to date!  Stephanie and Chad envisioned their wedding day with hospitality in mind, so they enlisted the help of the incredibly talented ladies at Pure Luxe Bride, to bring their vision to life!  They wanted their guests to feel as if they were coming to a wedding at their family's historic Charleston home, welcome to move about as they pleased!  I'm 100% sure they pulled off their vision!  I've never heard so many wedding guests rave about the decor, the house, the views… it seemed as if every corner I turned, someone was saying they wished they could come back and relive this night every year!  What a wonderful compliment, huh?!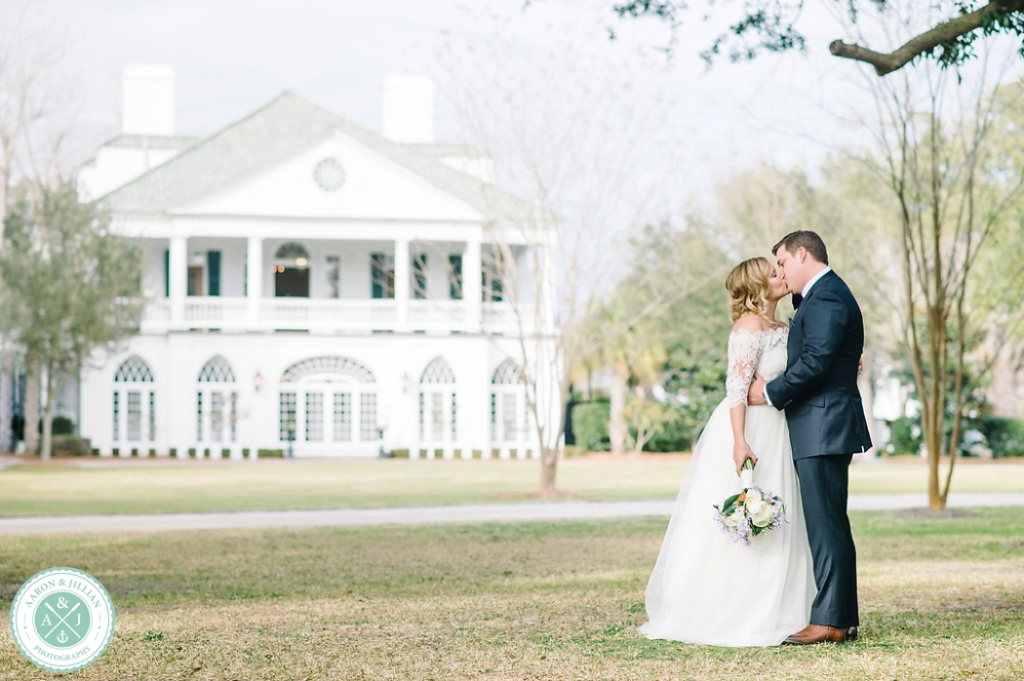 The entire house at Lowndes Grove was open to their guests to roam around during cocktail hour!  Most could be found sipping drinks on the porch while the incredibly talented 3 piece jazz band serenaded them on the 2nd floor foyer!  The weather was warm, the sunset was to die for, the guests enjoyed sets of rocking chairs in the cigar lounge by the water, their reception tent was draped in white linen and chandeliers, the tables were set with gold silverware and gold rimmed glassware, the beautiful menus were graced with hand sketched pictures of the venue, and magnolia and olive branch table runners ran the entire length of the longest tables I've seen to date!  The 3 course seated dinner was incredible, the beautiful white bar and tufted gray couches allowed guests a chance to get out of their seats and mingle with other guests!  The band played Big Band music all night long and had the dance floor hopping!!  A vintage rolls royce swept Stephanie & Chad off to their after party downtown… and what more can I say!   It was just PERFECT, and we're so happy for Steph & Chad because we know it was perfect for them too!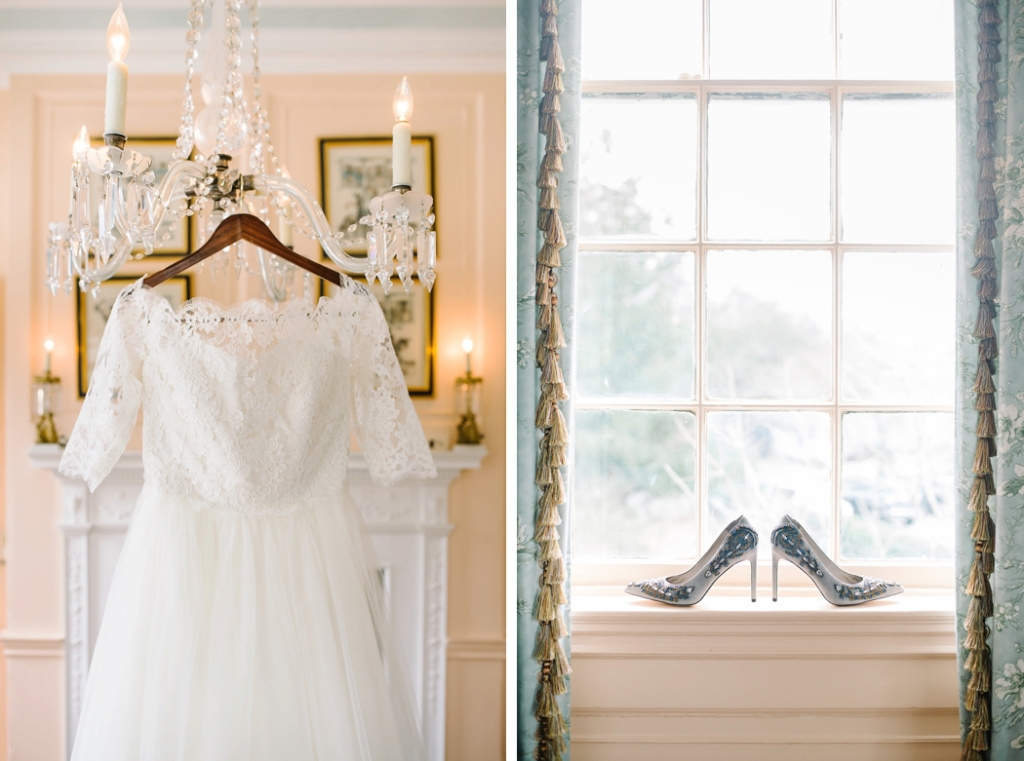 Stephanie and Chad, your wedding was stunning!  It was magical!  It was oozing with Southern charm… and in our eyes, it was perfect… and there's nothing more we could want for such a sweet, generous, thankful, and gracious couple like you two!  I'm not sure we stopped smiling all night that night and we're still dreaming of your wedding day and the chance we had to be with you two on the day you committed to forever together!  Congratulations!!


Wedding Ceremony Venue // St Luke's Chapel
Wedding Reception Venue // Lowndes Grove Plantation
Wedding Coordinator & Designer // Pure Luxe Bride
Wedding Dress Designer // Modern Trousseau
Wedding Dress Shop // Hayden Olivia – Charlotte
Wedding Invitations // The Silver Starfish
Wedding menus // The Silver Starfish
Wedding Rentals //EventWorks
Specialty Lounge Furniture // Snyder
Wedding Caterer // Fish Restaurant
Bar Service // Patrick Properties
Ceremony Musicians // Tom Bailey (819.3752)
Wedding Florist // Branch Design
Wedding Cake // Patrick Properties
Wedding Band // Joe Clark Big Band
Bridal Makeup Artist // Paper Dolls
Bridal Hair Stytlist // Susan Stalling & Erin Thomas
Vintage Bentley // Charleston Style Limo

_____________________________________________________________
If you would like for Aaron & Jillian Photography to be your Charleston engagement or Charleston wedding photographer, click the "contact" tab above!