Aaron and I had the chance to shoot a fabulous wedding at two of the coolest venues in Charleston; The Mills House and The Historic Rice Mill!  (…And yes, we got the names of them confused all day long!)  Not only was the Rice Mill built in the 1800's, but it's on the National Register of Historic Places and happens to be the only of Charleston's three antebellum rice mills to still be standing.  The charm of the building is almost as fabulous as the couple who we got the chance to photograph in it!  The first time I talked to Tate over the phone, we immediately clicked!  Her bursts of adorable energy were what drew me in and made me fall in love with her and Davis!  This girl loves her friends, adore's her hubby, never stops smiling, and can seriously break it down on the dance floor!  🙂  Their wedding day started off calm and cool as the breeze outside, with a team from Stuart Laurence Salon filling the bridal suite at The Mills House and Tate playing song after song on her iphone, dedicating each one to one of her 11 bridesmaids!  It was the perfect day!  It wasn't until everyone was seated for their outdoor ceremony that the sky began to open and the rain made it's grand entrance to the day!  Ahh, rainy day weddings – you know it just means the couple will have lots of beautiful babies, right?!  Their wedding planner, Hannah of Southern Protocol, burst into action and came to the rescue, moving the entire ceremony to the opposite side of the building in record time!  And while I'm on the topic of Hannah, let's just take a second to give her a round of applause for the STUNNING design she came up with for this wedding, which was a COMPLETE SURPRISE to Tate and Davis!  And let's be honest, Charleston Stems never disappoints with their gorgeous florals either!!!  Ahh, it's like a dream right?!  Enjoy some of our favorite images from the day!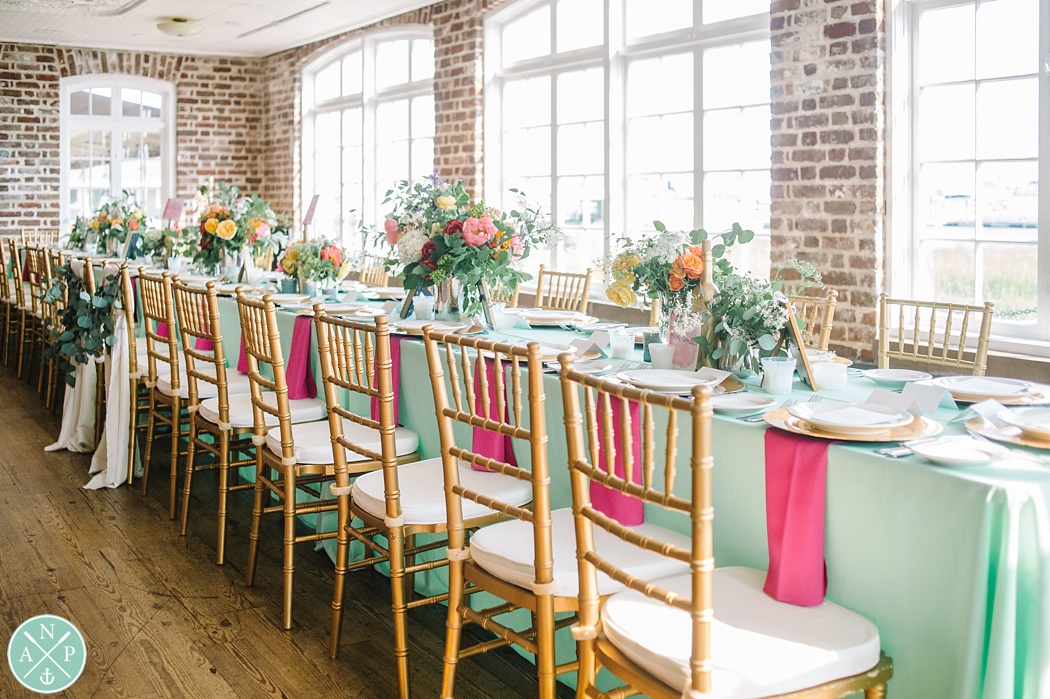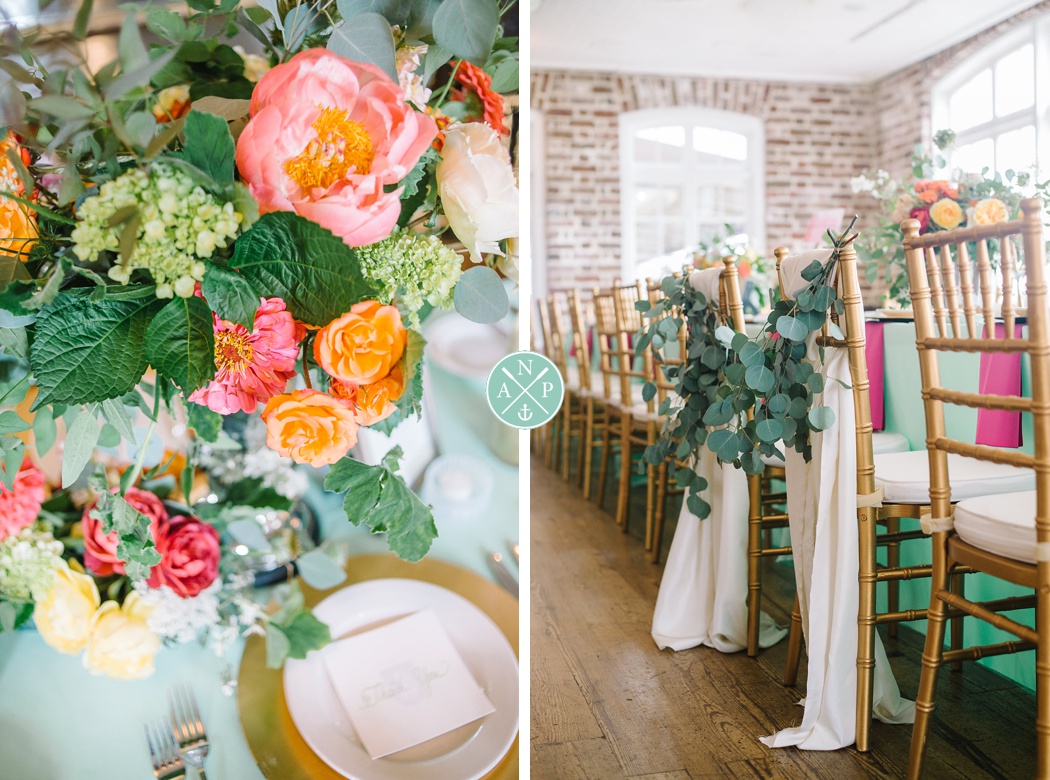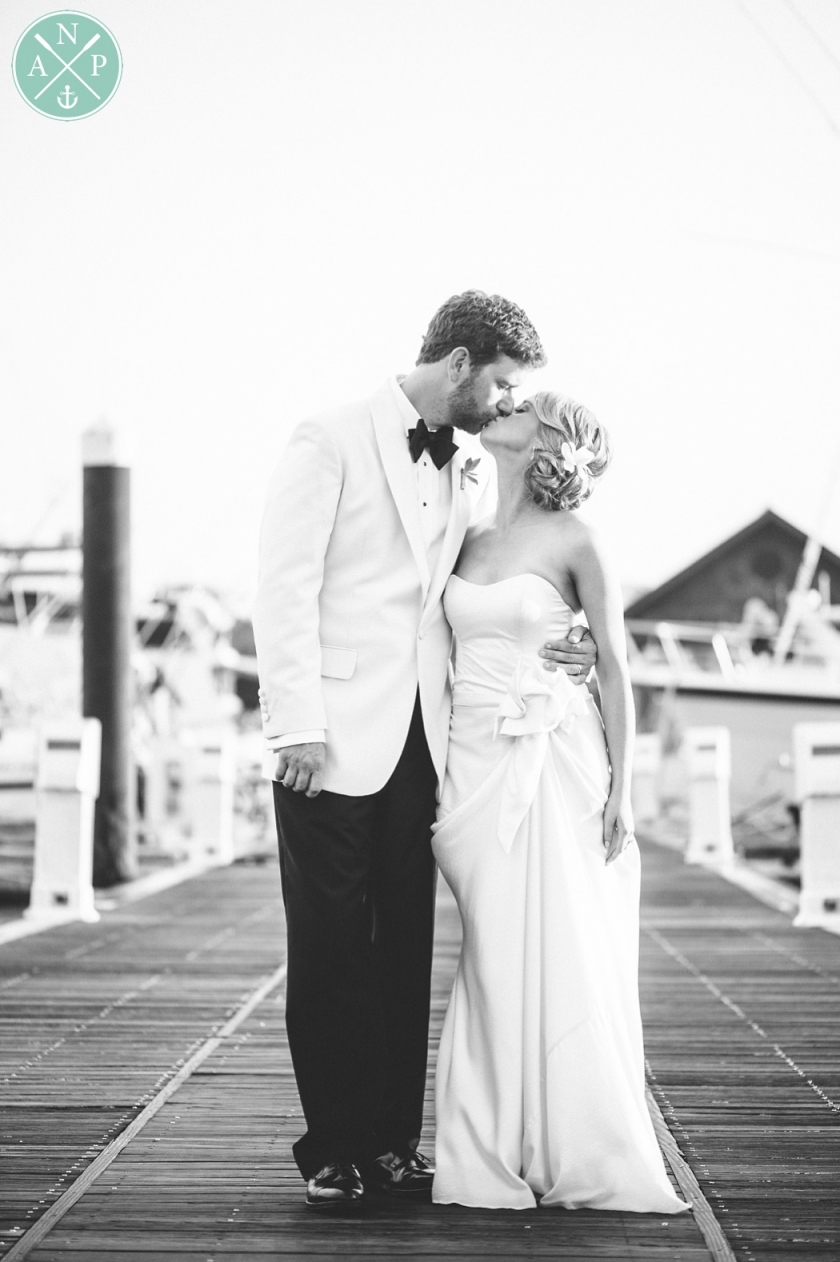 Congratulations Tate & Davis!  We know you two lovebirds have a fabulous life ahead of you!
Check out their awesome wedding video HERE by the awesome guys from LifeInRewind.com.


Wedding Planner // Hannah Grogan with Southern Protocol
Wedding venue // The Historic Rice Mill
Reception venue // The Historic Rice Mill
Wedding Dress Shop // Hayden Olivia Bridal in Charlotte
Wedding Dress Designer // Carol Hannah
Bridal Florals // Charleston Stems
Wedding Invitation Suite // Dodeline Designs
Make-up // Stuart Lawrence
Hair // Stuart Laurence
Gold Leaf Shoes // Gilda by Kotur
Bridesmaid's Dresses // Watters
Caterer // Good Food Catering
Bar Service // Good Food Catering
Wedding Videographer // Life In Rewind
Wedding Cake // Charleston Cakes etc
Ceremony Musicians // Jan Marie
Wedding Band // Uncle Funkle
Getaway Car // Charleston Style Limo


_____________________________________________________________
If you would like for Aaron & Jillian to be your Charleston engagement photographer or Charleston wedding photographer, send us a shout out by clicking the "contact" tab above!