Being a wedding photographer might just be one of the most rewarding, exciting, inspiring and creative jobs on the planet, but having clients like Colleen & Josh and the vendors who made their wedding day so beautiful, are what make it the best job on the planet!!
Colleen and her 2 bridesmaids got ready in a darling room at The Vendue, along with both her mom and mother in law too!  They were all soooo sweet and cheerful all morning, excited for the day ahead, but it was the moment that I walked with Colleen to see Josh for the first time that made my heart go a flutter!!!  She was so excited to see him and make him her husband, which makes me equally gift and excited!!  Luckily Josh didn't disappoint!  He was gentle and sincere and kissed her on the cheek when he turned to see her in all her glory!!  We loved the way he followed closely behind his new bride most of the day, proudly guiding her on the small of her back wherever they went!  There's no doubt that these two are each other's best friends and biggest fans; our favorite!!   Not only were they gorgeous together, their wedding was stunning!! Megan at Mingle Charleston pulled out all the stops for these two, transforming McCrady's Restaurant into a breathtaking space with beautiful florals by Forget Me Nots, awesome vintage green Lillian chairs and Isla Settee's along with beautiful crates and assorted vintage luggage for the lounge area at the reception!  She even rented a giant pergola and had IES string bulb lights to create an indoor/outdoor feel under the custom bar!  Oh and let's not forget about the dinner!!  McCrady's is one of the most well renowned restaurants in the city and guests feasted on some incredible food with menus close by created by Dodeline Design!  The grand second-story of the dining room is a picture of the past and has set the standard for fine dining spaces in the South since the 18th century (George Washington ate here for heaven's sake)!! It was so beautiful and perfect for these two lovebirds!  Congratulations Colleen + Josh!!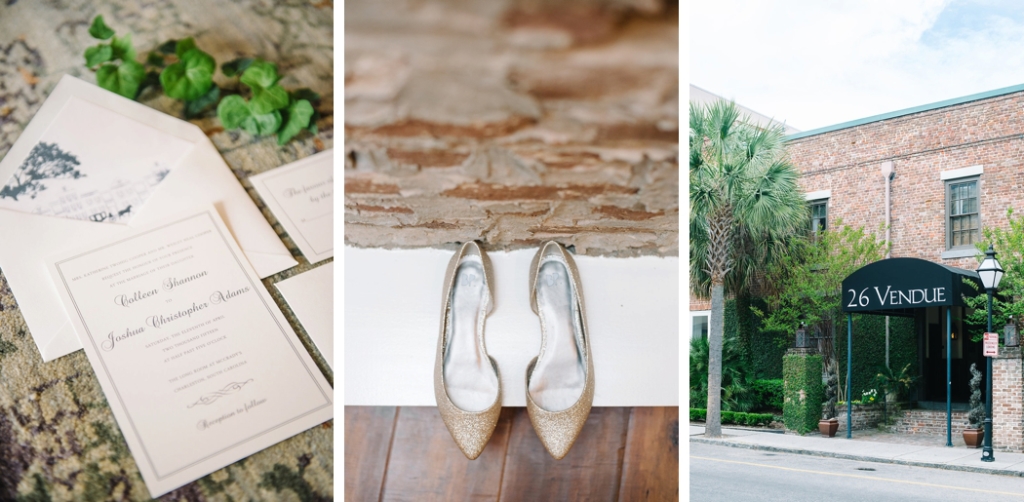 Colleen & Josh's wedding day was packed with a whole lot of laughter, thoughtful moments, lots of selfie stick photos, plenty of dancing and a beautiful backdrop to host it all!  Congrats you two!!!


Wedding Dress Shop // Gown Boutique of Charleston
Groom & Groomsmen's Suits // Berlins
Wedding Invitations // Dodeline Designs
Wedding Coordinator & Designer // Mingle Charleston
Wedding Caterer // McCrady's Restaurant
Bar Service // McCrady's Restaurant
Ceremony Musicians // Chris Crosby Trio
Lighting Design // IES Production & Design
Wedding Florist // Forget Me Nots
Wedding Cake // Twenty Six Divine
Wedding Band // Chris Crosby Trio
Bridal Makeup Artist // Lashes & Lace
Bridal Hair Stylist // Lashes & Lace


_____________________________________________________________
If you would like for Aaron & Jillian Photography to be your Charleston engagement or Charleston wedding photographer, click the "contact" tab above!