Imagine the most adorable, bubbly and driven girl and then the most sincere, thoughtful, and sweetly protective athlete and you've got Allison and Kip!  When I first met Allison, it was over a phone conversation about photographing their wedding at The Rice Mill this year and I LOVED all of the questions she was asking and the things that were important to her!!  We set up another meeting for her to come hang out with us at our home, and she and I immediately hit it off and talked for hours about wedding plans, photography, relationships… you name it!  We may or may not have kicked Aaron out of the room so we could talk about all the girly things that weddings bring out!  It was so much fun because Allison has such a beautiful way of making you feel like you're instantly friends!  It's no wonder Kip snatched her up out of single-dom to spend his life with her!  … and vice versa of course, because Kip is equally as awesome!  Speaking of Kip snatching her up, I should tell you the story of how they met and then how he proposed!  Allison was on the dance team at College of Charleston and after finals exams her Senior year, her girlfriend took her out on the town to introduce her to a Citadel guy who she thought Allison would really like because… get ready for it… "he has a great smile!"  How adorable is that?!  They danced the night away (as any college of Charleston dance team member should), and slowly started dating!  Then 4 1/2 years later, Kip rented out the Georgia Tech football stadium as a COMPLETE surprise to her and brought her out to the middle of the field and sat her down at what looked like a picnic.  Then messages began playing on the big screen of her best friends telling her how much she means to them!!  Then, as the messages faded out, he dropped to his knee and asked her to marry him!!  It was adorable and there's even a video and photographs to document the whole thing!  He didn't miss a beat and that's another reason why we love him!  These two are in for an incredible life together and we're so happy we get to be the one's to document this beginning part!  Stay tuned for their wedding later this summer, planned and designed by Southern Chic Weddings & Events and enjoy some of our favorites from their engagement session in Charleston!!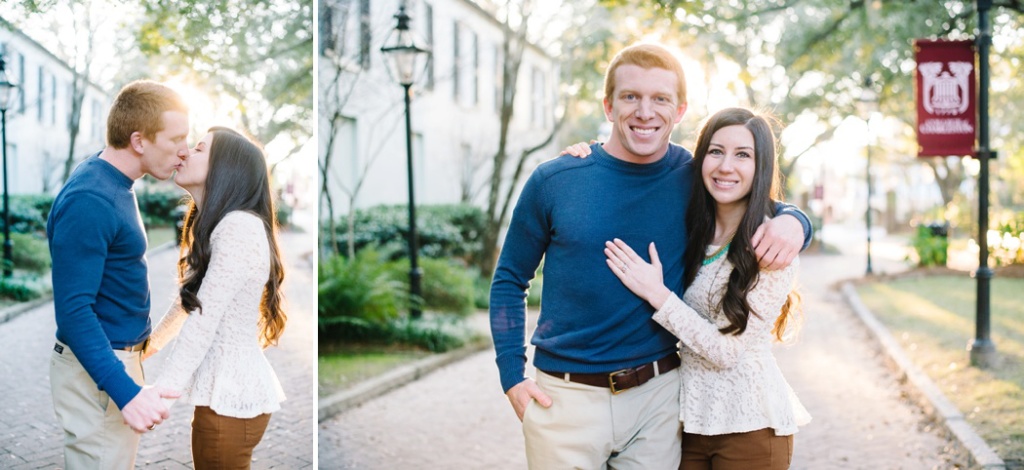 To be sure you're one of the first people to see photos of their wedding this summer, follow us on Facebook at: www.Facebook.com/AaronandJillianPhotography

_____________________________________________________________
If you would like for Aaron & Jillian Photography to be your Charleston engagement or Charleston wedding photographer, click the "contact" tab above!