A couple weeks ago, Aaron and I had the chance to photograph one of the most special weddings we've ever attended!  Andy is 80+ and Sarah is in her 60's and these two have quite the story!  After meeting with Sarah at a local bakery for our initial meeting and hearing the details of her life and Andy's, and how they became friends over 20 years ago and eventually fell in love, we KNEW without a shadow of a doubt that we had to photograph their special day!  Luckily she felt the same way, and a couple months later, we were arriving at Redeemer Presbyterian in downtown Charleston, the church she grew up in, to watch these two amazing people say their vows!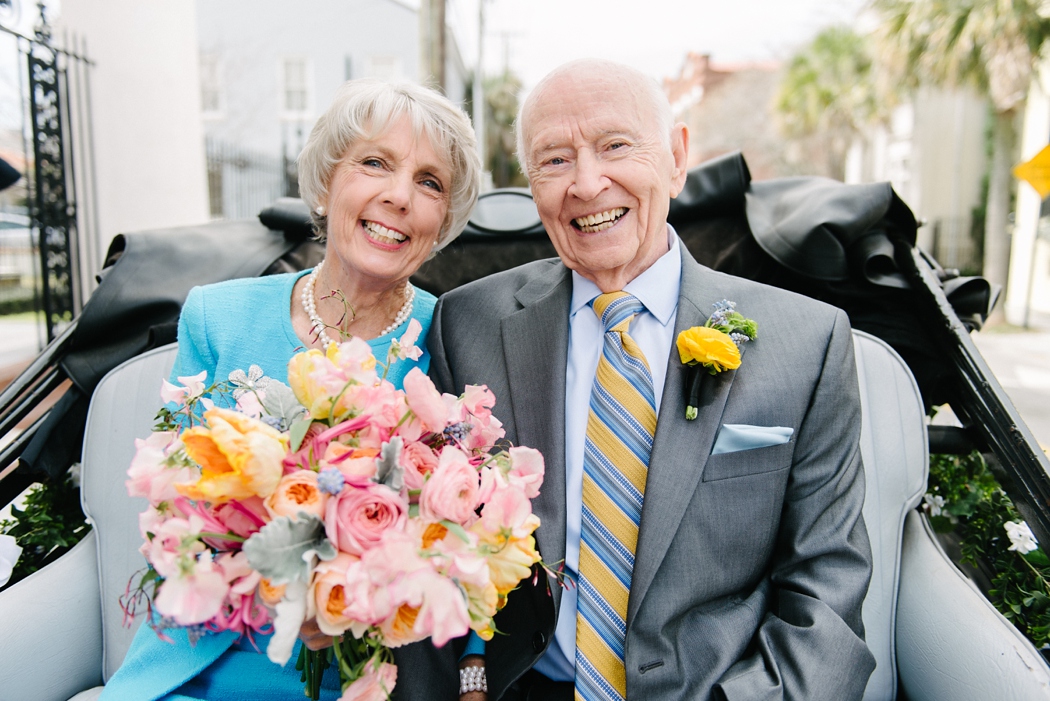 A little background, because we think they're so awesome!  Andy actually migrated to America with his first wife Joan in 1950 and Sarah has spent her entire life living in Charleston and married her first love over 30 years ago in the same church where she married Andy.  She and her husband were long time friends of Andy and his wife's and spent a lot of time together as couple friends.  When Andy and Joan retired, they looked into attending missionary school to equip them to serve as Christian missionaries around the world, but it was Andy's pastor who urged him to stay in the US and use his talents as a businessman to build a business that would enable him to financially support missions instead!  It was that conversation that eventually led Andy and Joan to create Premier Designs, a now multi-million dollar, eco friendly, direct sales jewelry company that supports missions all over the world and allows women to have a career while being a stay at home mom!  Double awesome!   When Sarah's husband passed away years ago, it was Andy and Joan who stepped in to comfort and walk alongside her through her loss.  In December of 2010, Andy's beloved wife passed away and Sarah repaid the favor of comforting and being there for him.  Fast forward to a couple years later and the two realized their friendship could actually be more than just friendship!  Andy pursued Sarah and before they knew it, they were head over heels in love and realized God had given them a 2nd chance at love and they were taking it!   Enjoy watching their special ceremony unfold and the love between them shine bright enough to light up the whole city of Charleston!
The grandkids/great grandkids, were instantly best friends!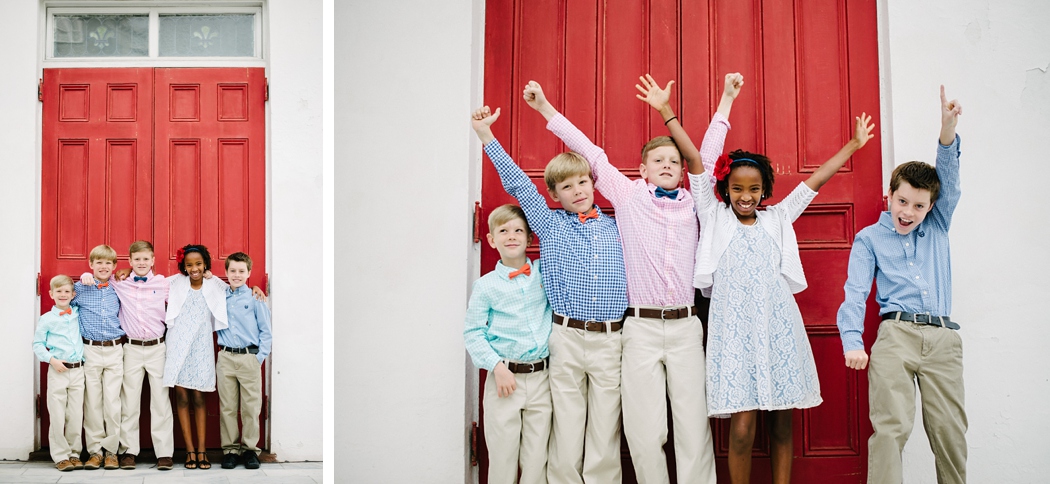 Her two sons walked her down the aisle!  (and yes, that's Matt Hemingway, the 2004 Olympic Silver Medalist in the high jump on the right!)








Sarah's incredibly talented son, daughter, and son in law sang the most beautiful song in the middle of the ceremony.





Sarah's sweet friends at Charleston Carriage Co arranged for them to be whisked away on a beautiful carriage!









How could these two not have a super fun life together?!  I mean, this was their idea!



Congratulations you two!  You deserve all the love in the world and we're so thrilled y'all found each other to spend your days with!

 Day of coordinator // Nancy Vinson
Officiant // Craig Bailey
Wedding rings // Designed just for them by Premier Design Jewelers
Florist // Branch Design Studio


_____________________________________________________________
If you would like for Aaron & Jillian to be your Charleston wedding photographer, send us a shout out by clicking the "contact" tab above!